Hey there, thanks for stopping by BadgerSEO.com to read our step by step guide regarding how to rank in local search.  We feel very confident that this blog post will be our SEO company has published to date, because we have every intention of delivering the goods, and leaving nothing out.  Let's jump right in!
You are here reading this because you know how important it is for your website to show up when someone searches Google for the products and/or services you offer in the city/area where you do business.  In a nutshell, this is what local search is all about.
How to Rank In Local Search – Step By Step
When it comes to SEO and ranking for local search terms (keywords), it is important NOT to put the cart before the horse.  Wherever you are at in your SEO marketing plan, it is crucial take care of the essentials, like having quality hosting, a mobile friendly site, and a fast loading site.
For long term SEO you should also do nothing but focus on your brand before doing anything else.  If you don't rank #1 when you search your brand, you have no business targeting any keywords.  Take a look at what it should look like, as I show the results when I searched for my company name.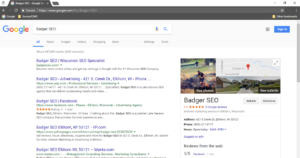 Before targeting any keywords, this is a must, and this is done by setting up your website properly (setting up your site title, meta etc), and creating social profiles with your brand name as the username that link back to your website.  A great place to get a list of socials to create is at Knowem.com.  You can do these yourself, or you can pay Knowem to do them, but they charge a pretty penny.  You can also contact Badger SEO for help with this if you find it too time consuming and you want better work done than Knowem will provide for less money.
Note: Before heading to Knowem, make sure you have the main socials already done on your own, being Facebook, Twitter, YouTube,Pinterest, LinkedIn, and Instagram.
Even if you rank #1 for your brand, we strongly suggest that you do at least 200 of these profiles.  It will create what we like to call a "social fortress", and will get you off to a great start, while building the exact types of links big bad Google wants to see.  After all, we are out to please them, and this makes a great first impression.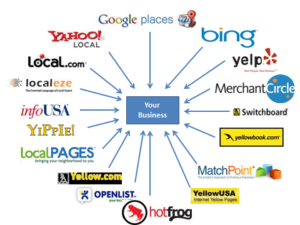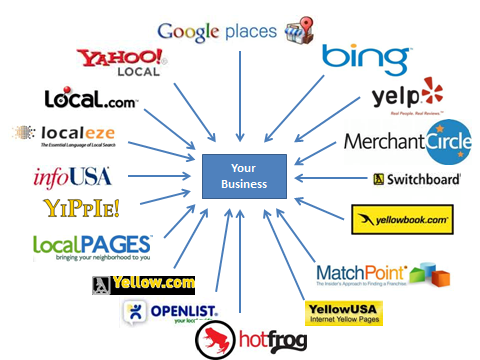 Once your social fortress is built and your brand is secured it is time to move on.  Ranking your website is awesome, but ranking in both the Google Maps (assuming you have claimed your listing) as well as in the organic search results is even better!  Luckily, nailing down 1 will help the other so the next step for local search domination is all about citations.
Citations are a critical component for ranking in the Maps, but they also help to establish more trust to your business website while building power.  The links are what is called nofollow, but they carry a great amount of weight.
There is no set number of citation links you will need to rank in the 3 pack of maps listings.  Some niches are harder than others, and some cities are harder than others.  Couple a tough niche in a huge city like Chicago, and you have some serious work to do to get yourself in the 3 pack.
One thing to keep in mind when building your citations is that consistency is HUGE.  Whichever way you have your NAP info (Name, Address, Phone#) listed in your Google My Business account is EXACTLY how you will want it to read across every site you build out a citation on.  If you can't do it exactly the same on certain sites, don't sweat it just get it as close as you can.
To find a list of sites you can build out citations on a simple Google search will get you started, however if you are looking to outsource these services you can always contact Badger SEO, or one service I feel good about recommending that can do this for you is found here.
Overwhelmed yet?  If so, contact us to let us do the heavy lifting so you can focus on running your business!  If not, read on!
Okay, so we have worked hard on socials and citations, this is a great start!  In a lot of niches, doing this right will be enough to get you close to page 1, if not there.  Obviously tough niches (like personal injury attorney) in massive cities might be different, but these steps will prove very beneficial when trying to take down even the toughest of keywords.
How to Rank in Local Search – Next Steps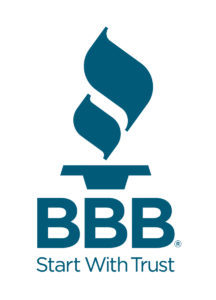 One thing many local business owners skip for some reason is getting listed in local directories, like the Chamber of Commerce and the Better Business Bureau.  These websites have a massive domain authority, and will definitely help to establish trust and credibility to your own website.  They are worth every penny, and should be done if you are trying to create a solid, white hat SEO foundation.  In fact, these links can come at any stage of the game, the earlier the better.
Following the steps from above will also provide you with a "bulletproof vest" type link profile.  What I mean by that is your site will be less likely to be hurt from a competitor doing negative SEO to your site (yes that happens).  When you go all out on the socials, citations, and high authority directory sites it really let's Google know you are a legitimate business, which can not only help you rank in local search, but help defend you from people out to hurt your site.  Win win.
Videos
YouTube is the #2 search engine in the world, right behind Google.  Guess who owns YouTube?  Yes, Google does, so creating a strong presence with video is a very smart choice.
YouTube videos can and will rank in both Google and YouTube if optimized and backlinked properly.  They provide a nice back link back to your site, and can help bring traffic to your website, which Google absolutely loves to see.
Blog Comments
You will never rank by only using blog comments, but they can be a nice way to get some links from sites that have relevance.  Links back to your website (whether dofollow or nofollow) that have relevance carry some weight, and they are actually pretty easy to find.  Here is a search string you can use to find some blogs to comment on that will bring back links with relevant keywords in the url's and titles.
keyword and "leave a reply"
For example, if you are a roofing contractor in Minneapolis, you could do this 1 of 2 ways.  You could either put the city in for the keyword, or the niche.  Here is how those would look:
Minneapolis and "leave a reply" or roofing and "leave a reply"
It's that simple.  Like I mention above, these type of links back to your website will never be enough on their own to rank in local search, but they can absolutely help you get links from relevant sites, provide you with a chance to diversify your anchor text, and potentially bring in some traffic (if the sites you are commenting on are high traffic sites).
Note – Don't try to use a keyword as your name when doing this.  You will be much less likely to get your comment approved, and you don't need that because you are getting your relevance from their url and/or title.
Press Releases
If done properly, press releases can be a great way to build authority and trust, as well as diversifying the anchor text links to your website.  PRWeb is widely known as the best press release service on the market and their premium release provides high quality tier 1 links to your website.  A few things to keep in mind when doing press releases are:
Use nofollow links only.
Create a newsworthy/interesting release.
Link in the resource box and use a real person, not a persona (don't be evasive).
If you follow these rules, a press release can provide a huge blanket of links to your website, and will contribute to that bulletproof vest link profile we are striving for.
Social Signals
Millions of people are spending time on social media every day, so make sure to be involved and engage your audience on sites like Facebook, Twitter, and Instagram.  Drop links to your home page as well as any other content that you have that makes sense, and encourage your audience to engage.
Reviews
Reviews are very helpful when ranking in Google Maps.  Encourage current and past customers to leave a review, because positive reviews will attract new customers who are searching for places to do business with online.  More reviews generally will help you attain higher rankings in the maps, so really encourage your customers to leave those reviews!
Ranking in Local Search – Stealing Links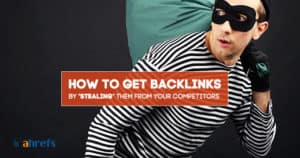 This might sound unethical or bad, but I can assure you that it is common practice in SEO, and is something you SHOULD be doing if you want to get top rankings.
What this entails is using a tool that can evaluate the links of a website, like ahrefs or Majestic, and plugging in the top ranking sites to see where they are getting links from.  The goal is to get links wherever you can that the top ranking sites have.  This can be tedious, and you need to have the tool to do it, but it can help you locate link opportunities you would have otherwise missed.  This is a pretty savvy and stealthy move, but something to not overlook.
Again, if this seems overwhelming to you that is understandable, and you can always count on Badger SEO to get the job done for you.  Just visit our Discovery Page to get started!
How to Rank in Local Search – Target Long Tail Keywords
So many people overlook some of the lesser searched long tail variations of the main keyword.  For example, if you are a Chicago DUI attorney, it could be much easier to target something like best dui attorney in Chicago, or best dui lawyers Chicago.
Targeting these longer tail searches will allow you to rank faster for searches that can bring customers through your door.  These variations add up fast, and can be a great way to get some rankings while working to nail down the big money keyword you are really after.  Create pages on your website as well as videos that target long tails and you can see rankings much faster than if you target the same keywords as everyone else.
Link building is one of the most important things to do when you're doing SEO. If you're building links and targeting long tail keywords it's important to have in mind that this work is time-consuming and sometimes very hard. To ease your work you can use this tool – Linkio.com which can be a huge time saver and also will automate your process and give you the exact link building game plan for any target website.
Other Factors
There are a few other ranking factors you should be aware of that can derail your SEO efforts:
Mobile Friendly  – You MUST have a mobile friendly/responsive website in 2017 and beyond.  Over 70% of all searches now take place on phones, tablets, and other mobile devices, and that percentage is rising.  Most people do not know that there is a separate search engine in google strictly for mobile, and they will not include your website in the results if you are not mobile friendly.
Page Load Speed – Page load speed is another major ranking factor in 2017 and beyond.  What happens when you go to a website and it takes forever to load?  You click back, right?  Most people do because we all hate to wait.  Google sees that and calls it a bounce, and if your bounce rate is bad you will be labeled as a website that provides a poor user experience, and does not give the searcher the information he or she wants.  You know what Google thinks of websites like that?  Yea, not good.
Conclusion
You came here looking to learn how to rank in local search, and hopefully after reading this post you now have a better idea of what it takes.  The strategy I laid out for you in this post is a sure fire way to rank in almost ANY local SEO niche.  In some rare cases, additional, more advanced SEO strategies will have to be applied if you cannot get where you need to be by doing these things.  Just know that these steps make it possible and those advanced strategies CANNOT be put into action without all of this, or you run a high risk of seeing your website get penalized.
These are all local search ranking factors in 2017, and will be well into the future.  So many SEO's cut corners in hopes of fast rankings.  While they might achieve some success with that strategy, it is a sure fire way to get your site dinged and will not bring long term success.  If you are going to get rankings the last thing you want to do is lose them, so take the time to do it right and you will reap the rewards for a very long time.
Thanks for checking out this post. If you found value in it, please leave me a comment below, and share via social media!  Feel free to contact Badger SEO any time if you would like us to handle your local search rankings.
Feel free to contact me any time, and check out our Discovery Page to see if our services could be of help to you.
Til next time!
Josh Parker
Badger SEO