Will SEO For Lawyers Bring More Customers Through Your Door?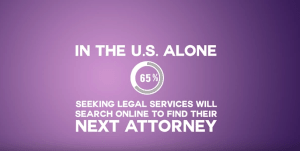 Can SEO for lawyers bring more customers through your doors? That is the million dollar question when thinking about whether or not your firm would like to employ SEO as a marketing strategy. In this post, I will talk about how Search Engine Optimization for law firms can benefit your business, and whether or not the end result will be more paying customers.
Do People Really Search Google For Lawyers?
According to some of the information I have gathered online, nearly 65% of all people that are looking for legal services begin their search online. The rising popularity of smart phones, tablets, and other devices make a quick Google search convenient and easy. If you want to have any chance of getting your business in front of those people, SEO for lawyers is a MUST!
While being listed in a national directory is a good idea, the truth of the matter is that most people will never visit those websites. What most people do nowadays is grab their phone, go to Google, and plug in what they are looking for and where. A few examples would be:
Chicago criminal lawyer – This exact phrase gets searched nearly 500 times per month in Google alone, and other variations of this search only add to that number.
personal injury lawyer Milwaukee – This exact phrase gets approximately 170 searches per month, with other variations sprinkled in. If you were a personal injury lawyer in Milwaukee, would it benefit your business to be in front of those people?
divorce attorney Charlotte NC – Would a divorce attorney in Charlotte NC have any interest in having their business in front of those 320 + per month searches? I think so.
You get the point. There are searches happening every day for every branch of law in every major city across the country.
Is law firm SEO all you need to market your business?
While SEO can be a great way to get leads, we like to think of it as a piece of the puzzle, but a big piece. With more people using devices to find the information they want, the bigger piece of the puzzle SEO marketing becomes.
What About SEO vs PPC, Who Wins?
I will simply add an image below and let that do the talking…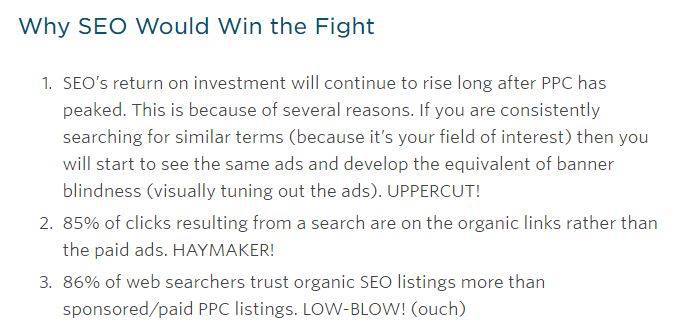 There you have it. More people trust organic listings over PPC. I have personally asked many people about this just to see what they thought, and almost everyone I ask says they skip over the ads. Why is that?
People like to buy, but hate to be sold to. Those ads scream ADVERTISEMENT, and peoples eyes just roll right over the top and down to the maps and organic listings. Search Engines hate it, because they get paid when someone clicks on an ad. They have tried everything to make the ads as up front and personal as possible, but click maps show time and time again, organic wins every time. SEO for lawyers is the best long term strategy for marketing online, end of story.
What About the Maps?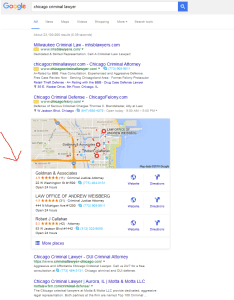 Yes, you absolutely want to be listed in the maps. The first part of getting there, is making sure you have an optimized Google My Business listing. It is not just a matter of creating a listing though. Any good SEO will be able to help you create that listing the right way, and help you do the things that need to be done off page to get your listing up there in the maps.
Google only allows for 3 places in there (as of 2016), so in a lot of niches it can get quite competitive. A good SEO can analyze your competition, and get your maps listing showing up in the 3 pack. It may take some time, but with good SEO practices it can be done. Here is the kicker, and it is a good kicker… Enhancing your maps listing builds up your websites DA (Domain Authority), which will help your website rank in the organic listings too! Get top rankings in both, and you are dominating!
So what next?
What next is up to you. If you are still here reading this page, I think you are interested in lawyer SEO, which is a great choice. Even better, Badger SEO is the company to help you get things rolling!
To take the next step, simply visit our Discovery Page and take 5 minutes to answer a few quick questions. We cannot discuss price or time to complete without knowing more about your website and your niche. Just like a doctor needs to examine you before prescribing meds and/or a treatment plan, we need to examine a few things related to your project as well.
Thank you for taking the time to read this page. SEO for law firms is a great way to ensure steady leads for the long haul. Feel free to contact us any time if you have questions, and have a great day!
As a solo legal practitioner, I came to the conclusion that my historical reliance
upon print advertising was ill-considered in this day and age of electronic
sophistication.  Therefore I turned to Josh Parker of Badger SEO to pull me into the
21st century in terms of my marketing needs.  I contracted with Josh for several
search engine optimization projects as well as the development and hosting of a
mobile device-friendly website.  In all of his endeavors, I found him to be
personable, polite, professional and punctual in doing what he promised to
accomplish.  Although there perhaps is no definitive way of measuring SEO success, I
have every reason to believe that  Josh's advice has helped my practice and that
anyone in my situation can place their trust in Mr. Parker that he will do his best
to ensure that one's business or profession is optimally promoted.  As far as I am
concerned, you can't go wrong with Badger SEO and I plan to continue my professional
relationship with it for the foreseeable future since I am convinced that the
expertise of Josh Parker will directly impact and greatly benefit my legal practice.
Stop Losing Customers to Your Competiton!