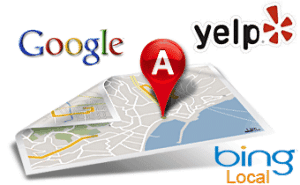 For many businesses, both large and small, overlooking the importance of building citations the right way can be a very costly mistake.  In today's SEO landscape, you cannot just hit your site with garbage links and expect to see good results.  And if you do, they will be short lived.  Citations are the strongest foundation links you can build, and it is of the utmost importance that you get them done right!
Which Citations to Go After?
For starters, the benefits of building citations is 2 fold.  Not only does it help boost your Google My Business listing, which can lead to top 3 rankings in the Maps, it works wonders for your site as well because it builds the DA (Domain Authority) of your site very nicely.  The links coming from the sites I will list below are very valuable links.  Here is a list of some of the top Web 2.0 sites your business SHOULD look to get citations from:
Facebook
Twitter
Yelp
YouTube
Yahoo
Bing
FourSquare
Angies List
Getting citations from these sites will do wonders for your overall SEO game plan, because it will get you the branded links you need, allowing you to get links using anchor text that targets specific keywords you want to rank for.
I have mentioned a few times that you need to get the citations done right.  What makes them right?  The answer is simple…
CONSISTENCY!
Yes, consistency.  When you create your Google My Business listing, you will want EVERY SINGLE citation you build to have the exact same information in them.  Even the slightest bit of change in any detail will drastically damper the effectiveness of the citation in regards to boosting your Google My Business listing.  The links to your site will still be powerful links for SEO purposes, but the citations that can help push your business up in the maps will not be effective.
I have mentioned before that adding a blog to your business website is a great idea.  Building citations and getting them done right is even MORE important, and is a critical part of local seo.  Get your citations right, and add unique, relevant content consistently and you have yourself a rock solid foundation for long-term success!
Getting the Citations
To get these citations you can either do them yourself, or hire someone to do them for you.  This is a tedious process, and it requires you to get all of the information done perfectly so everyth9ing matches up exact.  While doing them yourself can save you a few bucks, I highly recommend having a professional handle this for you.  Your time can be spent running your business, not trying to figure out how to create accounts, and navigate all of these different sites.
Badger SEO is here to help, and if you would like to get citations done right, along with other highly effective SEO services contact us today to help!  Not showing up for searches related to your business is like handing your competition money.  Stop handing your competition money now, and call Josh at Badger today!
Thanks for checking reading this post. If you found value in it, please leave me a comment below, and like, comment, and/or share on social media for me!Feel free to contact me anytime, and check out our Discovery Page to see if we can assist you.
Til next time!
Josh Parker