Essex SEO: How To Get Started
As much as we provide SEO services in Essex (and the UK), we encourage businesses and individuals to learn the processes involved. Even if they will stop at the basics!
Besides, Essex SEO (and generally) doesn't require a "technical" background. You only need to follow guidelines and be open to learning.
However, you must understand that SEO in Essex (or anywhere) is dynamic. What works today might be inapplicable tomorrow. That's why you will always need experts like us: Badger SEO.
But overall, as a business owner, you must understand the importance of SEO to your business. More importantly, you should know how to track it. That's where this article can help!
FYI, this article is a robust guide. We compiled tons of essential information on Essex SEO here. In other words, it is a long read – but not a boring one.
Plus, we shall show you examples and screenshots to guide you at the critical stages. And if you're patient enough, we have a gift for you towards the end of the article.
That said, here is a quick overview of what you'll learn in this piece:
Why SEO In Essex?
Summarily, SEO (Search Engine Optimization) is a gift that keeps bringing. It promises your business endless traffic and sales.
According to a BrightEdge report, SEO kickstarts over 60% of online experiences. Beautifully enough, "organic search traffic" alone accounts for 53% of the lot.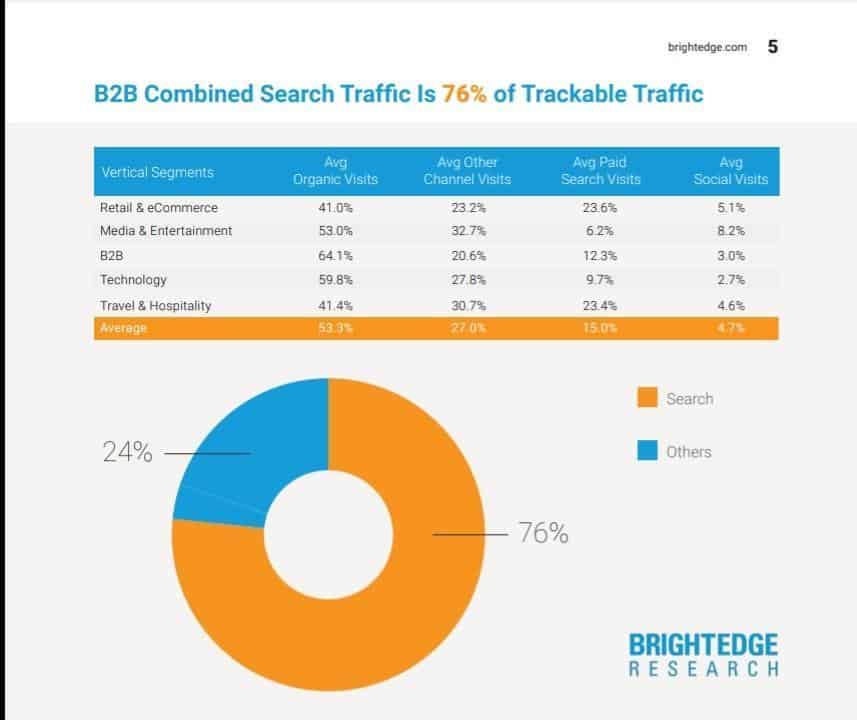 What do you make of that "statistics"?
The answer is glaring: SEO is the best way to get traffic, leads, and sales online. It beats other channels hands down (at least thrice).
So, you shouldn't even be contemplating if you should be doing SEO for your business in Essex. Instead, ask about the specific benefits and how to start.
Benefits Of Essex SEO
Often, we equate SEO with simply "ranking our businesses on the first pages of Essex search engine result pages, SERPs." However, that is not the primary essence of SEO.
Let's clear the confusion!
First, let's ask you a quick question: why do you want to improve your website's ranking on Essex SERPs? For the website to be seen? Why?
You likely have a few products or services that you want to showcase to your prospects. Right?
Now, that "second part" is the essence of your SEO. Ranking high on Essex SERPs is only a means to an end. It draws traffic to your website and business. From there, prospects will see what you sell and buy from you.
Summarily, SEO brings more traffic to your business. For specifics, it does these:
Free Traffic
While there are paid traffic channels (the ads you see whenever you ask questions on Google) for SEO, they are expensive. Moreover, they are not as effective as organic traffic (free). The latter is even the cream of SEO!
Organic search fetches the most traffic (53%) for SEO, unlike other digital marketing channels.
Now you might argue that generating posts and links are not exactly free. But you'll at least agree that those processes are cheap.
You can always outsource your SEO blog writing, get quality links, save cost, and rank easily on SERPs. Thanks to tools like SurferSEO and marketplaces, you don't even have to wait too long to attain a desired position on the SERPs.
Bottom line: SEO traffic is relatively affordable compared to other marketing channels. The best part: it is the most effective way to gain actionable leads.
Passive Traffic
SEO traffic isn't only affordable; it is passive too. And you don't even have to be all salesy and "in the face" of your prospects. Mind you, that's often the case for organic SEO.
Wait! If you're not "salesy," how can you make sales?
You can establish authority in your niche. By answering your audience's questions, you'll gain their trust and recommendation.
Subsequently, you will be the first contact if the need for your services arrives. Service and product sales aside, you can yet feed off your audience with subscription (via emails and newsletters) and consultation.
Consistent Traffic
The end game of SEO free and passive traffic is to draw consistent sales for your business. And it does that beautifully.
However, note that you can't relax on your SEO efforts. Nonetheless, rest assured of continuous sales as soon as you can maintain your rankings on the top SERPs (at least the second page).
Now compare that with other marketing channels. Let's start with social media!
Social networks focus on trends and send fresh content to their users. On the other hand, email marketing isn't any better. Users can spam your emails or choose not to read your messages.
Unlike social networks and email marketing, SEO traffic isn't shallow. It doesn't fade quickly. In fact, if you search a query on the "big G," the chances are that you'll find evergreen content written 5-7years ago on the first pages of SERPs.
Note: you'll update old, evergreen content with new information. But that's minor work compared to what you must do to sustain traffic through social networks and email marketing.
With the benefits of SEO discussed, let's delve straight into action:
Setting Up Your Business For SEO Success In Essex
You need 5 crucial elements to set up your business for SEO success. They include:
A domain
Website platform
Hosting provider
Site & URL structure
User experience
However, before we talk about the listed elements, there is one thing you must do. You need to introduce your website to Google (and other search engines).
Else, there will be no ranking or traffic to even discuss. Hence, zero SEO!
So, how can you introduce your website to search engines?
Submit your sitemap!
What is a sitemap?
A sitemap is a resource that maps out all the vital pages of your website. Think of it as a treasure map that makes the job of search engine bots straightforward.
Before submitting your sitemap, you might want to confirm if you even have it. Here is how to check:
Type either "sitemap.xml" or "sitemap_index.xml" after your website URL. E.g.
https://badgerseo.com/sitemap.xml
Step 1 should bring up something like this: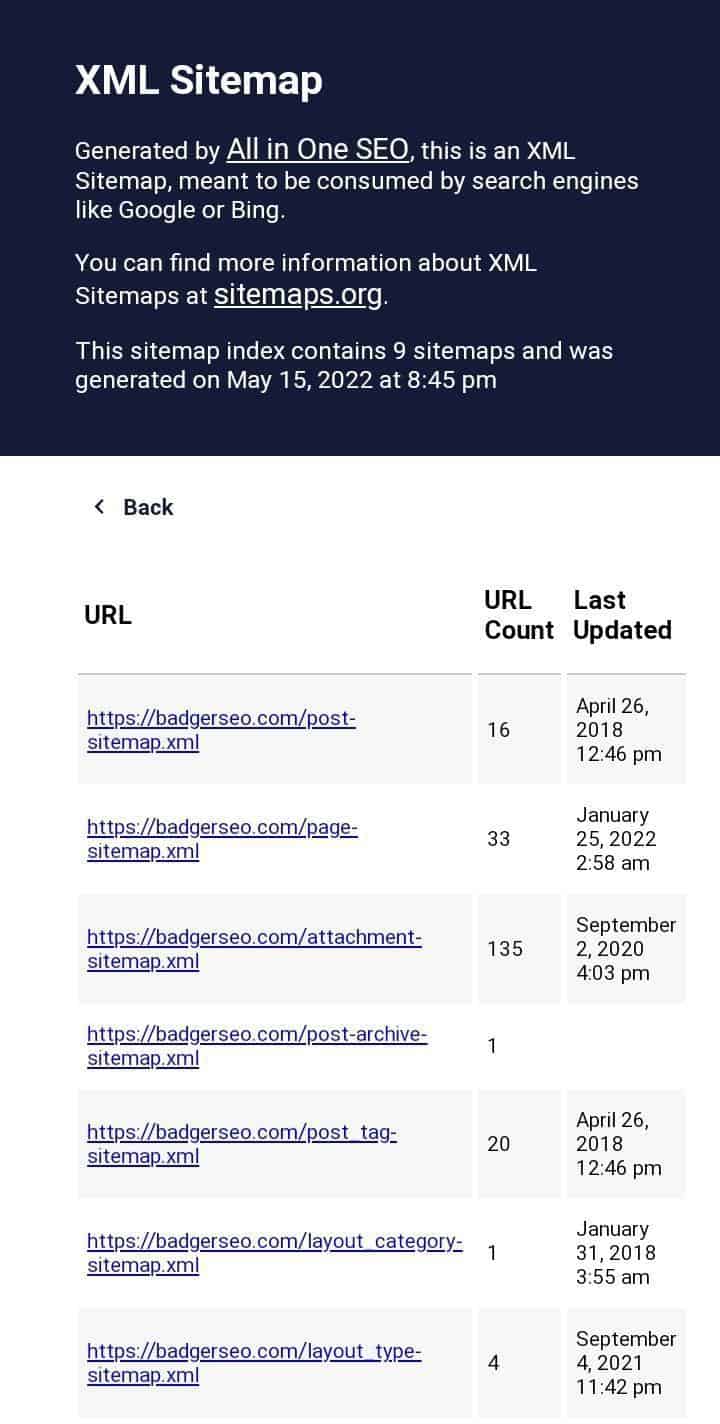 If you can't find any result (like the screenshot above) after adding the "sitemap" suffixes to your URL, add "robots.txt" to your website URL.
Say you can't find your sitemap after the "robots.txt" suffix; you don't have a sitemap. Ensure you create one.
Afterwards, create a Google Search Console account, and submit your sitemap.
Voila! Now, you're ready to start on your SEO success journey. Let's revisit the elements we listed earlier!
Domain
One of the first things you must get right is your domain. A GOOD domain name is worth fortunes; it can make or mar your SEO efforts.
But while you're at it, don't worry about fusing weird keywords into your domain. We understand you want to create brand domination.
If that's you, know that you're getting it all wrong. Stuffing keywords into your domain is not even how to harness brand domination for SEO. Instead, you will appear desperate. And trust us, that's the last thing you want for a successful Essex SEO.
So, what can you do?
The following tips can help you get the BEST domain (SEO-wise) for your business:
The name of your business should be in your domain.
If you could, keep the domain short, void of hyphens and underscore.
While TLD doesn't affect SEO, your audience might have their reservations. Also, we'll advise you to avoid TLDs such as ".info" and ".biz;" they often come off as cheap.
Also, do away from location TLDs unless you want to limit your operations to Essex or the UK.
Website Platform
This element is particularly crucial to people who can't code.
FYI,we hold no grudges that you don't understand HTML, JavaScript, and CSS. Who needs codes when you can create websites with platforms like WordPress, even as a rookie?
However, ensure you pick the RIGHT website platform because it can impact your SEO. So, where do you start?
First, understand there are two general types of website platforms:
Hosted platforms like Wix
Self-hosted platforms like WordPress
Hosted and self-hosted platforms work similarly. They help you avoid the boring technicalities of web design to create a website after your heart. The only difference is the degree of autonomy.
Self-hosted platforms require you to install and host the changes by yourself. Plus, you can edit virtually anything as you grow in expertise. That's where plugins come in.
On the other hand, hosted platforms let you do all your tweaking without plugins. While that might seem like a plus, it limits the personalization you can make to your website.
Our recommendation: we'll advise you to stick to self-hosted platforms. The widely used example in that category is WordPress.
But if you don't care much about personalization, stick to Wix; it is super easy to set up.
Hosting Provider
Often, website platforms also offer hosting options. For example, WordPress has some at wordpress.com, and there is a partnership with Bluehost.
Furthermore, the issue of hosting providers also highlights our point about self-hosted and hosted platforms. The former lets you pick from the array of hosting providers available. Unfortunately, the latter restricts your options.
In any case, ensure you pick the best hosting provider and plan for your website. They are crucial to your website's bounce rate (a key contributor to SEO).
That said, how can you pick the RIGHT hosting provider and plan?
The most critical factor to consider about hosting is the provider's reputation. Is your data safe?
Regardless of the plan you choose along the line, if the hosting provider has a history of poor service, your website SEO will suffer.
Also, pick a hosting provider with servers in the UK. Though you can bypass location worries with CDN, still prioritize the former.
Afterwards, choose dedicated hosting plans. They are the best and can support tons of traffic. However, they are expensive.
Lastly, sign up for your desired hosting plan only after confirming that the provider responds quickly to enquiries.
Related reading: Siteground Hosting Review
Site & URL Structure
Earlier, we talked about sitemap and SEO. But beyond SEO, a sitemap is crucial for creating a logical structure for your website.
With a logical site structure, visitors can scroll through your website conveniently. More importantly, you will smoothly guide users through your services and offers.
So back to SEO: a well-built site structure will increase the value of your web pages. Here is how:
Search engine bots crawl websites to understand their pages and links. The more the bots understand the page, the higher the chances of web pages getting indexed, and ranking high on SERPs.
Pro tip: a well-built site structure is not as DIFFICULT as you think. You only need to ensure that each page on your website is functional and linked appropriately to each other.
Like your site structure, your URL should also be logical and straightforward. As much as possible, keep your URL simple because that's how your users can quickly understand what you're offering.
So, how can you keep your URL structure simple?
Depending on your website platform, there are generally 5 ways to structure a URL:
Day and name
Month and name
Numeric
Post name
Plain
Our take: use the post name format. It is descriptive and easily understood. Here is an example:
https://badgerseo.com/how-to-find-quality-local-seo-services/
Looking at the URL, isn't the content OBVIOUS?
We can vouch that any 3rd-year pupil from a random primary school in Essex can tell what information to expect. The same thing should apply to your business URL. Make them simple to understand!
Note: we won't advise you to change the URL of an already ranking web page, even if it's not perfect. Update the content if you must, but keep off the URL.
User Experience
SEO and user experience (UX) go hand in hand. If your website UX is GREAT, you will record incredible SEO success.
However, don't limit your definition of great UX to aesthetic-pleasing websites. It is much more than that.
Here are the factors that contribute to your website UX:
Security – a website encrypted with SSL/TLS will save users from hackers.
Beautiful designs – aesthetics is a crucial factor for websites. But you don't have to go overboard; stick to something simple that represents your value as a brand.
Mobile-friendliness – the chances are that most people will surf from their smartphones. For that reason, ensure your website is fully optimized for mobile as well as it is for desktop.
Loading speed – ensure your website contents are not too bulky so that they don't affect the loading speed. Always target a 3-5secs benchmark.
Keep your pop-ups to a minimum. If possible, remove the intrusive ads altogether.
Now, your website is set for SEO success. The next step is to start the SEO steps. This section can help:
Starting With The Basics Of Essex SEO
Whether in Essex or Southampton, the basics of SEO are constant. To get your game right, you need to understand the four elements of SEO:
Keyword research
On-page SEO
Link building
Technical SEO
Keyword Research
Summarily, keyword research entails meeting your users at their point of need. In other words, you research what they want (their queries on search engines) and brainstorm what more they might need.
And while you're at it, you will compete with other businesses in Essex. That point is where you need to understand the traffic potential and difficulties of ranking a keyword.
Thankfully, tools like Keyword Planner can help!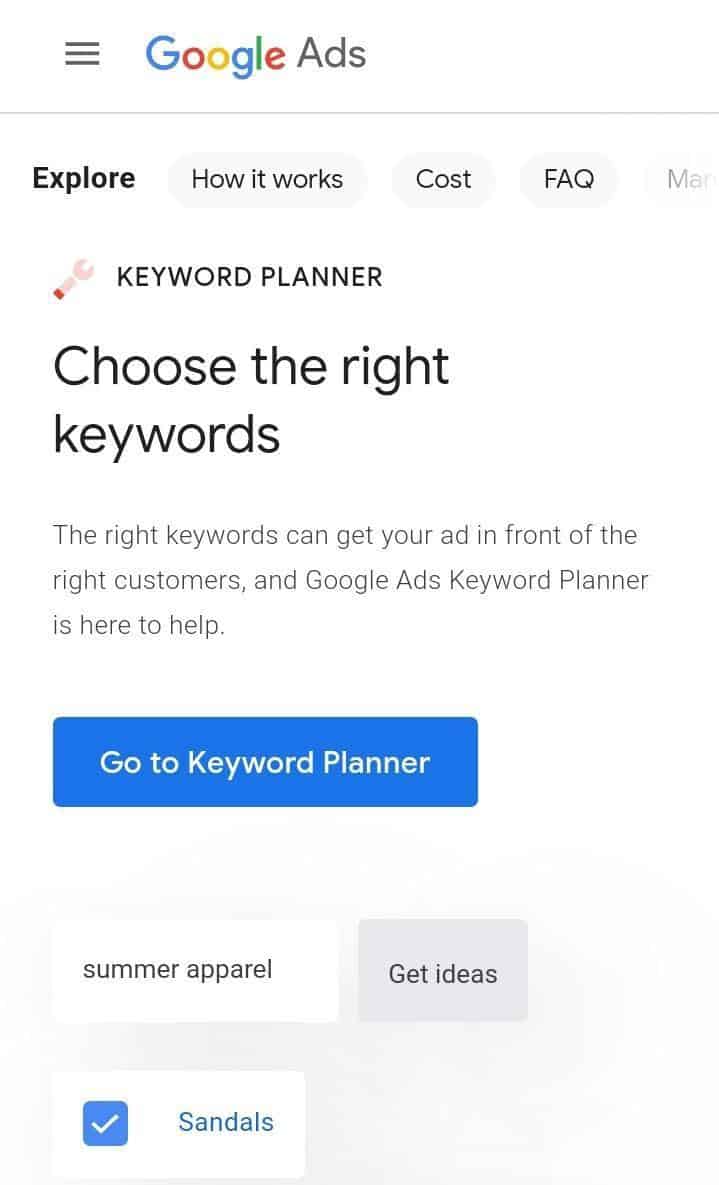 On-page SEO
After researching the keywords with the most traffic potential, you need to include them in your posts and pages. But as much as that is the basis of on-page SEO, avoid keyword stuffing.
Only place keywords where they are a natural fit. Most importantly, follow these rules:
Prioritize matching search intent by genuinely answering questions.
Back to URL structure: ensure you make it as descriptive as possible. You can even insert the keywords in there.
Like your URL structure, your title tag should be compelling and optimized.
Lastly, optimize your images in size and description.
Link Building
Your keywords and on-page SEO can only do so much. You still need links from other websites to improve your credibility.
Now, the websites could be within Essex or outside the UK. But ensure they are authoritative. Don't post links to BAD sources. Else, you risk the success of your Essex SEO altogether.
That said, here are the usual ways to build a link to your website:
Guest blogging – writing posts for other websites.
The skyscraper technique – is a lot more hectic but effective. Here, you will create better content than what people link to and ask them to link to yours.
Competitors' links – this simply means you will research competing businesses in your niche in Essex, find their backlink sources and suggest writing something better. But be careful with this approach!
Technical SEO
Technical SEO is a different game altogether. It involves technicalities that you might not be familiar with. But don't fret!
Technical SEO isn't REALLY complex. It simply helps search engine bots crawl and index your website quickly. It often involves auditing your pages and posts.
Now, the work is complete. How can you confirm if your Essex SEO is a success?
Tracking The Success Of Your Business SEO
There are several ways to track the success of your Essex SEO. But from the lot, the easiest method is to check your traffic.
Has the traffic increased? What was your previous traffic? What is it now?
Another method to track your Essex SEO success is to monitor your keyword rankings. What position is your website now on SERPs for your desired keywords?
Most importantly, track the conversion of your traffic. Getting tons of traffic without sales is a futile SEO. Ensure you are getting revenue from your SEO efforts.
And now, we shall fulfil our promise to you: check the list of free tools to up your SEO game!
Free Tools To Master Essex SEO
Now you're ready to get your Essex SEO game on. But remember, you can always ask for help when in doubt. All the best!
Essex SEO: How To Get Started