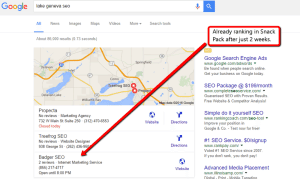 Has the time come for your company to gain a presence in the online realm?  Finding quality local SEO services can be a daunting task, but it does not have to be.  In this short post I will share some tips with you to help make ranking in local search easier than ever.
When contracting out local SEO services, you should make sure to do some investigating before just handing your money over to a company or individual.  Here are a few things to consider before going forward:
Is the business or person legit?  If it is a business, they should be able to be found online, meaning they should have a Google My Business Page, Yelp, Manta, Yellow Pages, etc…  These directory style websites can give you a quick confirmation that a the company you are talking with is legitimate.
How did you find them?  Did you happen to find information on this company or individual by checking Google for SEO services?  Do they have any track record of proof that they can rank anything online?  Before paying someone to help you get ranked online, you should make sure they have at least 1 thing they can show you that they worked on.  It could be a website, video, business listing, or anything else that requires SEO to rank.  A quality SEO should have some great ideas and tips soon after analyzing your site.
Do they have any testimonials?  When an SEO does good work for a person or business, they will almost always ask for a testimonial.  These testimonials are important because it shows you that this person has provided quality local SEO services before, and has helped a business enhance their online presence.  You can find testimonials for an SEO on their website, or places like LinkedIn.  You can check out some of my testimonials and recommendations on LinkedIn here.
Before hiring someone to provide local seo services for you, just make sure to investigate these things, and really anything else you feel you should before doing business.
Can We Help?
Local SEO services are the exact types of services Badger SEO provides.  After someone visits our website and fills out the information on the Discovery Page, we then provide a free video analysis for each potential client, and provide them with some great insight as to what type of effort it will take to get their particular website ranking in Google.
We cannot give information on pricing or duration of time until we have the Discovery Page information.  No 2 SEO projects will ever be the same.  Our SEO company works in the same manner as a Doctor.  Just as he or she cannot prescribe you medication, or a specific treatment plan without an examination, we cannot provide you information regarding price or time frame without conducting an examination of our own, of your site of course 🙂 .
The information you provide us with helps us accomplish 2 main things:
Attain information about your current website.  This has many layers, but we will look at everything that can pertains to ranking.
Evaluate the niche you are in.  Certain niches are much harder to rank for than others.  Therefore, for us to get a game plan in place we need to poke around your niche, look into search volumes and competition before we can create a custom plan specific to your business.
What Next?
That is up to you!  We would love to talk with you about your specific needs for local seo services.  Either way we wish you the very best.  Do your research and make the best choice for you!
Thanks for checking out this post. If you found value in it, please leave me a comment below, and show me some social media love and like and share it for me!
Feel free to contact me any time, and check out our Discovery Page to see if our services could be of help to you.
Til next time!
Josh Parker