Most small business owners have no idea how to go about increasing their presence online in the Maps and Organic listings.  Because of this, so many people fall into the PPC (Pay Per Click) trap, and spend absurd amount of money on campaigns.  In this short post, I am going to share a few small business SEO tips, which will hopefully get your business headed in the right direction.
Before I get started explaining how you can use basic SEO to help your business, allow me to share a graphic that shows the advantage of SEO over PPC: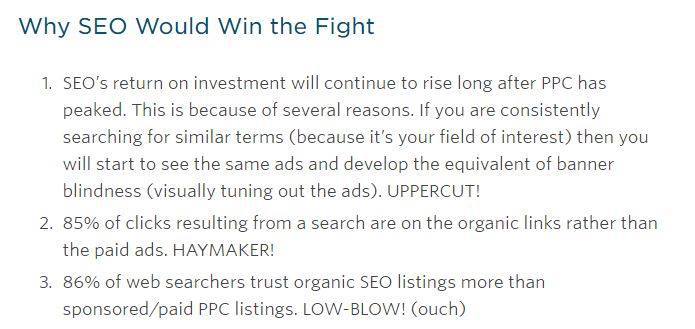 Let's just put that debate to bed.  Organic results are more trusted, therefore, more clicked.  Even without the other factors, that is enough to make someone want to choose search engine optimization, or it should be anyway.
That being said, let's move on.  Now I will share some basic SEO tips that you can implement for your small business.
If you follow these 5 basic small business SEO tips, you will be off to a great start.  Of course, there is more to SEO than what is written on this page.  If there weren't, everyone would be #1, and that just isn't possible.  As I said though, these tips are great building blocks and can allow you some freedom to be more aggressive with your off page SEO once all of this is completed.
Thanks for checking out this post. If you found value in it, please leave me a comment below, and show me some social media love and like and share it for me!
Feel free to contact me anytime, and check out our Discovery Page to see if our SEO services could be of help to you.
Til next time!
Josh Parker