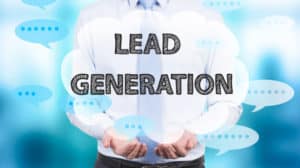 Hey there, thanks for stopping by.  You found this website because something led you to conduct a search on Google that could help you find ways to generate leads for your business by using the internet.
Whether you are a plumber, electrician, remodeler, chiropractor, dentist, or any other type of business owner you know darn well that generating new leads and acquiring new clients is crucial to survival.  In this post, we will talk about ways you can achieve this goal for your own business.  Let's dive in.
Ways to Generate Leads For Your Business Online
There are a lot of different ways business owners go about creating exposure for their business using the net.  Below, I will list some of the more popular ways and talk a little about each one.  Hopefully, it helps you narrow down which method would be best for your business because making that decision is the first step.
Note – I don't like to make assumptions, but in this day and age you SHOULD already have a website.  If you do, be sure to check out our free website audit page.  If you don't, we offer amazing package deals for people looking to get going online so contact us to learn more about that.
In no particular order, here are the most popular ways local business owners are generating leads for their business online:
Social Media – Do you have Facebook, Twitter, Instagram, Linkedin, Pinterest, or any of the other popular social media sites?  I am guessing you do, but if you don't you are probably one of the few!  These social media websites present a great opportunity for business owners to spread the word about their business.  This method requires consistent action but can produce great results if done properly.  It is also a great way to build rapport with new and existing customers.
Blogging/Content Marketing – This one is exactly what it says it is.  Blogging and content marketing is a solid strategy but is something that will not bring immediate results.  It is a great way to show you are an authority in your respective niche but requires consistent action and some traffic getting skills, such as SEO or social media.  Blogging is also a great way to beef up your website with content, which can be used to interlink to other important pages on your website.  Should you have a blog on your website?  Read my take here.
Paid Ads – Unlike blogging and content marketing, paid ads can bring immediate exposure.  Some people prefer this method of marketing, and you can get going with this on social media sites or with Google and Bing Ads.  A few things to keep in mind when considering PPC is that when you turn a campaign off or stop paying, the traffic ALL stops.  Competition can be fierce in some niches, and you can find yourself paying a LOT of money just for a click.  Not a call or lead, a click.  When running paid ads it is crucial that your website is optimized for conversions because the last thing you want to do is pay for the traffic then have them bounce because your site does not do a good job of getting the desired action.
Video Marketing – Video marketing is a great way to go about getting exposure to your business.  YouTube is the #2 search engine in the world behind Google so it is definitely worth looking into!  Videos also help create some rapport, because when a potential customer views one of your videos they almost feel like they know you which can help with converting them into a paying customer.  Some other skills are required with video marketing because you need to get the video in front of people (traffic) for it to be effective.
SEO – Ahhh, last but not least SEO!  If you don't know what SEO means, it is short for Search Engine Optimization.  As you can see, my business is SEO, and this is my preferred method of generating leads for business owners.  In a nutshell, SEO is about capitalizing on the keywords that people plug into Google.  When a search is conducted, the user will see ads, maps (sometimes), and the organic results.  If you are #1 in Google you are the first site listed that is not an ad, not including those maps listings.  Google provides marketers heat maps that show where the clicks are.  They have made every attempt to get more people to click on the ads because they get paid when an ad is clicked, but those heat maps indicate that more often than not, people will either click on those maps listings or the organic search results.  That is where you want to be, especially if you are a local business owner.  Unlike PPC, SEO is generally not going to provide you with instant traffic, however, once you arrive at the top you can count on steady, consistent traffic and leads 24/7 365.  Feel free to contact us to discuss our SEO services.  If you want to get going right away, take 5 minutes to fill out the information on our Discovery Page and we will take a look then get back to you promptly.
These are the top 5 ways a business owner can go about generating leads for their business using the internet.  Is there a clear-cut best way to go about it?  No.  For some businesses, social media will work better than other strategies, while other businesses might achieve greater ROI from SEO.  The best thing you can do is learn about each strategy then make a decision and get going!
Closing Thoughts…
It is an exciting time we live in.  There are a lot of great ways to grow your business, and using the internet to help you get customers is a great way to go about it.  The Yellow Pages are dead, and now is the time to get your business going online.  Every day you stand by and wait is another day your competition is sucking up those leads.   I have told you how to get local business leads online and have shared my top 5 methods for bringing exposure to your business, it is now up to you to act on the info you have been presented with.
If you would like to learn more about how SEO can help your business rake in leads 24/7 no matter what type of business you have, contact us today or visit our Discovery Page to get the ball rolling now.
Hopefully, you have found value in this post.  If so, feel free to share with others so they can enjoy it too!
Til next time!
Josh Parker
Badger SEO