#1 SEO Appleton Services – Badger SEO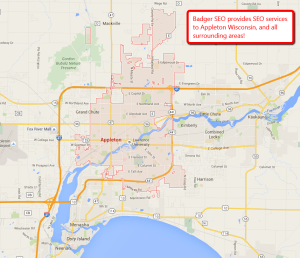 Welcome to our website. You likely found us because you went online to a search engine like Google, and typed in SEO Appleton, or some variation of that. Our Search Engine Optimizations skills have led you to us, and we would love to help you reach potential customers that ARE online searching for products and services that your business offers! SEO can help you do just that by enhancing the presence of your business online.
Why Search For Appleton SEO Services?
You are here reading the content on our page, therefore, you understand the importance of getting your business front and center in Google searches. The days are long gone of phone books and Yellow Pages, and the sooner you start building your presence online, the sooner you can start reaping some of the rewards that come with it. SEO in Appleton is no different than SEO in any other city. The strategies and tactics that we can employ for your site are the same strategies and tactics we use on our own site, as well as our other clients.
There are right ways and wrong ways to do anything. Getting your SEO done right can save you a ton of time, energy, money, and potential troubles. For some reason, people think SEO is something they should take on without the help of a professional. Sometimes it works, but most of the times it doesn't and many people do more harm than good and end up with a site that Google hates, and once you are in their cross hairs it is hard to get out. I don't tell you these things as a scare tactic, but to inform you that the things you do will either have good or bad consequences in regards to your website and the SEO potential.
Why Choose Badger SEO to Help?
There are a lot of companies to choose from, we understand that. When choosing a company to help with your search engine marketing, it is essential that you find someone with credibility, as well as proven results. You found us, so you know we can rank. If you want to see what other people who we have helped say about us visit our Testimonials page and take a look around. We have helped countless people with SEO, and have worked along side some of the best SEO's in the world. We have helped numerous local business owners here in Wisconsin go from no online presence to total domination, and we can do the same for you!
Badger SEO is located in Elkhorn Wisconsin, but our client base truly has no limits. We recently helped a company in Canada with their internet marketing strategies by providing consulting, and guiding them along the way because they wanted to do things for themselves. Whether you are in Appleton, Neenah, Menasha, Green Bay, Milwaukee, you name it, we can help get you awesome results so you can start getting new leads and customers as soon as possible.
Want to know more?
Many clients want to know about pricing and delivery time before providing us with necessary details. We do not provide (or recommend) cookie cutter SEO services, and need to conduct an examination of your current online situation to come up with those details. Just as a Doctor cannot decide how to treat you without an exam, we cannot tell you price and time without an exam of our own. This is why we created our Discovery Page, so we can get a little bit of information about your unique project, and create a plan that will get you results. After we receive those details, we will create a free video analysis and send that to you via e mail. Use the link below to visit our Discovery Page:
If you seek quality SEO Appleton, Badger SEO is the #1 choice, and is driven by results. Feel free to contact us if you would like to set up a time to talk via phone, or give us a call at (855) 217-4717 today.
Josh was able to help us go from having absolutely no presence online to having a strong presence.  Not only did he redo our entire website, but he optimized it and got it ranking in top spots for so many different searches that were highly relative to our business.  He was available, and very easy to work with throughout the entire process.