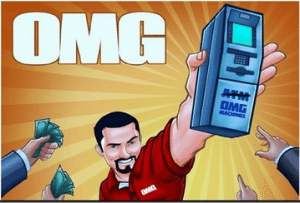 If you are out there looking for an OMG Machines review, I hope this helps.  I am writing this review for no other reason than to help spread the word.  There is no affiliate commission or link, so this is just me sharing my story and reasons on why I decided to pull the trigger, and join OMG this year.
I have been around the internet marketing game for quite some time now.  For at least 5 years, I had been bouncing around from course to course trying to find something that would show me the way.  In that time, I came across some real duds, as well as some programs that were actually helpful.  Some of the more helpful ones that actually taught me something were Wealthy Affiliate, and Source University.  While these course were able to get me going, I look at them more as High School type courses.  They definitely teach you enough to get your internet marketing business going, but I felt that they both left out a big piece of the puzzle.
Being in source University, I was hearing a lot about OMG Machines.  The teachers were glorifying it, and the members all said it was the most incredible SEO training they have ever seen.  I must have asked 25 different people to share their stories about OMG with me, and each and every one of them had nothing but great things to say about it.
I was on board.  Then I heard about the price tag!
Yes, OMG is NOT cheap.  There is nothing cheap about it, but in life you get what yo pay for, and that holds true in this business as well as any other.  You and I both know that you are not going to get the same steak at Steak-N-Shake as you will from the fine dining joint in downtown Chicago.  You and I both know that the sneakers you get from Wal-Mart will not hold up compared to a quality pair of shoes you get elsewhere.  I think you get the picture…
What I knew for sure was, I did not feel I had the training I needed to be uber successful with internet marketing.  Sure, I was making some good money but I wanted more.  I decided to use the commissions I was making with some of my affiliate ventures and invest it into OMG, and just like that I was a member!
So I have been in OMG since December 2015, and I write this around the middle of January 2016.  In the 1.5 months I have been in OMG I have learned WAY more than I have learned everywhere else, combined!  The other courses I had been in were fine for the money I was spending to be in them, but like I said they were High School.  OMG is College and Masters degree all in one!  The video vault is so comprehensive, and if you take the time to work through the, and implement the things you learn by taking massive action you can and will have a MASSIVE SEO business.
So What About the Negative Reviews?
Places like Wealthy Affiliate teach their students to intercept traffic of other highly searched courses and write bad reviews on them and revert them back to Wealthy Affiliate.  They pretty much call everything a scam except for Wealthy Affiliate, even though most of the people writing the review have never been an OMG member.  Nice huh?  That is why you see a lot of bad reviews, because people are trying to intercept you and take you down their path.
You won't find a lot of other OMG reviews simply because they do not have an affiliate program.  Therefore, most people are not spending their time writing up a review because they know it won't lead to a commission of any sort.  I chose to write this just because I felt like sharing my story.  if it helps anyone down the road, then it was all worth while.
Feel free to contact me any time if you have any questions about OMG or would just like to "talk shop".  If you are in need of any SEO services, I can help with that too!
Thanks for checking reading this post. If you found value in it, please leave me a comment below, and like, comment, and/or share on social media for me!
Feel free to contact me any time, and check out our Discovery Page to see if we can help you.
Til next time!
Josh Parker