Looking for a Janesville SEO Company?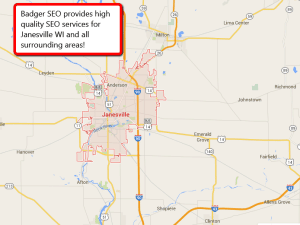 Do you want more exposure for your business online?  It is no secret that people are turning to their computer, smart phones, and tablets to do a quick Google search to find products and services in their area.  The days of people picking up a clunky phone book or yellow pages book are gone, and if you don't adapt, you will be left out.
When people search Google for something that is related to your business, and find someone else you are basically lining your competitions pockets.  They are there scooping up the new customers that are searching every day, while you are left wondering how to attract new customers and leads.
The solution is right here in front of you as you read this.  Badger SEO can provide cutting edge SEO techniques to help your business start to enhance your online presence.
How it works:
After we receive your Discovery Form submission, we can carefully construct a custom marketing plan that will help your business be found in the Google Maps listings, as well as the organic search results.
Below, I have illustrated a local search for carpet cleaning Janesville WI so you can see what are ads, Maps listings, and organic listings.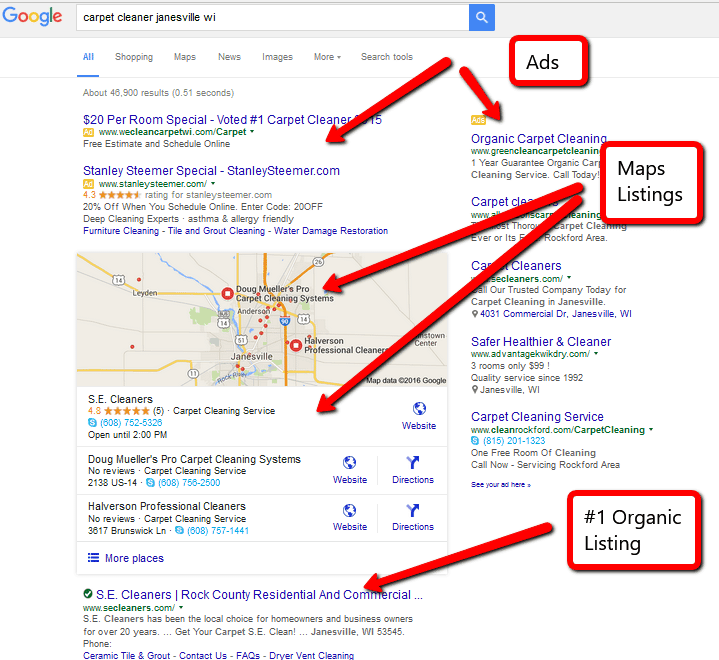 In this example, the business S.E. Cleaners is doing a great job.  They are #1 in both the Maps and the Organic search results.  I can guarantee you that any time someone in the Janesville Wisconsin area searches for carpet cleaning, they find S.E. Cleaners, which brings them a steady flow of new customers that they would have had no chance to connect with if they had not been ranked high in the maps and organic listings.
Google collects data as to where people are clicking the most.  The interesting part is, the least amount of clicks go tot he ads, while Maps and Organic dominate the clicks.  The reason for this is because people are turned off when the see an ad.  It gives them the impression that it is something they are trying to sell you on, as opposed to something you are digging up the info for yourself.  So, the place to be is in the Maps and Organic listings!
More Janesville SEO Info
Would you like to find a Janesville SEO expert that can help your business dominate the results like this?  If so, you are in luck.
This example is just scratching the surface as to the power internet marketing has in regards to business owners.  SEO is awesome, and will definitely bring you new customers and leads, but there is much more that just that.  Video marketing on sites like YouTube and Vimeo, as well as social media marketing are also areas your business could use to attain new customers.  You can absolutely start with SEO and go from there, but having a complete online presence is the best way to have online working for you 24/7.
Best Course of Action
My name is Josh, and I run Badger SEO.  I would love to help you start reaping the benefits that having a strong online presence will bring.  We provide Janesville SEO services, as well as other cities across the state of Wisconsin.  Our strategies are are cutting edge, and will not only get you to the top, but keep you there too, all while providing you with a great ROI.
The best course of action is to visit our Discovery Page and take a few short minutes to fill out the Discovery Form.  It is unobtrusive, and helps us get a good understanding of where you are at and where we can go.  Much like a doctor cannot diagnose, and put together a plan of action to help your ailment without an exam, I cannot give you estimates of cost and time without knowing critical details of your particular case.
You can also contact us any time if you would like, but filling out the Discovery Form is something all of our new clients do.
We hope to hear from you soon!
A video from Josh Parker, the owner and CEO of Badger SEO.  Call us today at (855) 217-4717!
Stop Losing Customers to the Competition