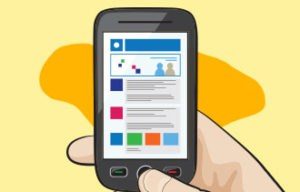 I write this post as of April, 2016.  If you have not had your website made mobile friendly by now you are way behind.  Months ago, Google released a new algorithm that would favor mobile friendly sites in the mobile search results.
Mobile Search Results??  Yes, the results Google delivers for mobile searches is different than non mobile searches, and if your site is not up to snuff, you will most likely lose a TON of traffic.
If you have to convert a website to mobile, there are a few options.  Each website building platform is slightly different, and requires different actions to make create a mobile version of the current site.  Luckily for you, Badger SEO has a convert website to mobile service, and can have your site mobile friendly in no time.
The importance of having your website mobile friendly is undeniable.  The update Google laid out leaves no room for chance, and they flat out say sites that are not mobile friendly will be penalized and lose mobile search rankings.
Over 60% of all searches now take place on a mobile device, and to be honest, that % will only get higher.  The convenience a quick mobile search offers is taking over, and people are using tablets, phones, and other mobile devices to conduct their research.  You can completely forget about Phone Books and Yellow Pages, as no one uses them anymore.  You NEED to be found online when someone searches for products and services related to your business, and you NEED to be mobile friendly.
As we mention above, Badger SEO offers a service that will convert your website to mobile, so you don't have to worry about any of the technical challenges that can come with this process.  This service is very affordable and is a no-brainer if you want to generate business through your website.
Some website require more than others, so we cannot include pricing here on this page.  The best way to get a price on having us convert your website to mobile is to CONTACT US now.  You can either contact us via e mail, or call us at (855) 217-4717.
Stop losing customers because your site is not mobile friendly.  E-Mail or call today to discuss our SEO services so we can get that taken care of for you!
Thanks for checking out this post. If you found value in it, please leave me a comment below, and show me some social media love and like and share it for me!
Til next time!
Josh Parker